As I logged on to the Internet, I just saw at Yahoo! News today that actress Natasha Richardson died due to a head injury from a skiing accident. The article had a picture of a blonde lady and when I saw her name, I thought I've seen her before. when I scrolled down the photos... I found out where I saw her ....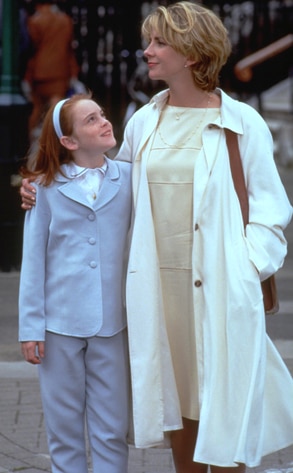 Image Credits
That's her on the right with a very young Lindsay Lohan in one of my most-watched Disney movies, The Parent Trap, where she played Elizabeth James, mom to two Lindsay Lohans and wife to Dennis Quaid's character. She was absolutely gorgeous there and so classy. I loved her wardrobe that transcended time.
Plus I saw how versatile she was when her mommy role took a 180-degree turn at Maid in Manhattan where she played a woman totally opposite Elizabeth where she played a very obnoxious and bratty socialite.
And here's the news about her untimely death as quoted from the
Wikipedia article on her
:
"
On 16 March 2009, Richardson was injured in a skiing accident at the
Mont Tremblant Resort
. She was taken to
Hôpital du Sacré-Coeur de Montréal
after suffering a
traumatic brain injury
. She was listed as being in critical condition, and her husband,
Liam Neeson
, was reported to have joined her after flying from
Toronto
, where he was filming a movie. Richardson was flown on March 17 by private jet to
Lenox Hill Hospital
in
Manhattan
and visited by her sons, mother
Vanessa Redgrave
, and sister
Joely Richardson
. She died on 18 March 2009 at age 45.
"
:'(
Even if she's already gone, her legacy will always remain and will make her immortal